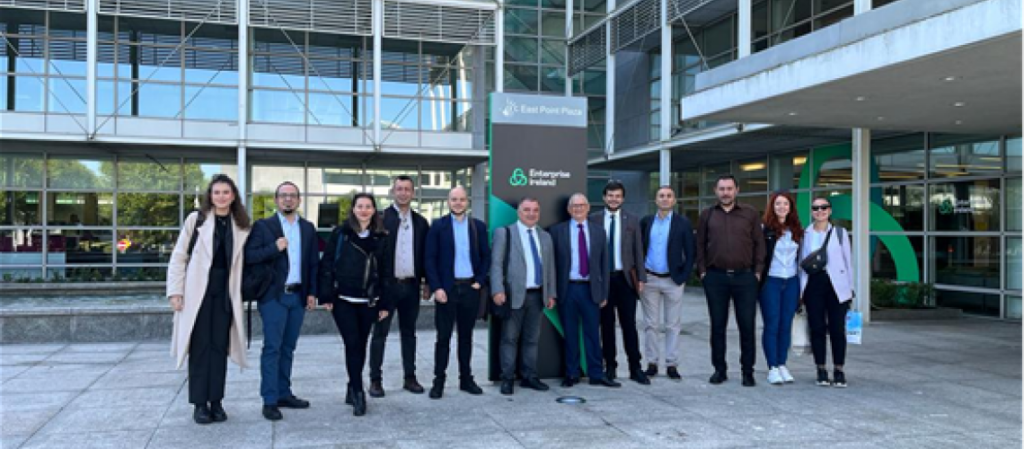 The Project Team and representatives from Ege Teknopark, Ege University, EGIAD, and the Ministry of Industry and Technology of the Republic of Türkiye come to Ireland on a study visit for a week on the 29th May to see at first-hand how Ireland has become an internationally recognized success supporting Deep-Tech Start-up businesses. The overall aims were to compare the Irish ecosystem with the situation in Türkiye, identify good practices and innovative solutions in supporting businesses and to develop fruitful relationships and potential cooperation in the Deep-Tech area between Irish stakeholders and Ege University, Ege Teknopark and EGIAD.
The visit was hosted by Enterprise Ireland (EI), the Irish Government's agency tasked with supporting innovative deep-tech enterprises at each stage of their path towards commercialization. The Turkish delegation had the opportunity to explore the thriving national innovation ecosystem with the key EI staff members responsible, Senior Development Expert Michael O'Dea, National Programmes Manager Paula Carroll, and Entrepreneurship & HPSU Department Manager Anna Marie Turley. The day concluded with a very interesting meeting with senior managers and tenants of Dogpatch Labs. Based in a restored heritage building at the heart of the Irish capital Dublin, Dogpatch are a prominent player in the national innovation ecosystem and a well-known commercial start-up hub which is currently home to over 500 start-ups and growing tech-based businesses.
Our photograph shows the delegation visiting Enterprise Ireland's Headquarters in Dublin and shows (left to right); Gülşah Şenoğlu, Entrepreneurship Expert; Doruk Deniz İlmenöz, Project Expert; İrem Ceren Geren, Project Expert; Anıl Şensöz, Project Coordinator; Prof. Dr Emre Ilker, Ege Teknopark General Manager and Senior Representative of the Ege D-Tech Project; Philip Sowden, Technical Assistance Team Leader; Anıl Baybura, Deputy General Manager of Ege Teknopark; Özden Karadağ, Contract Manager; Emre Yılmaz, Financing Expert; Melisa İtmeç, General Coordinator; and Gizem Ay, Ege D-Tech Project Coordinator.