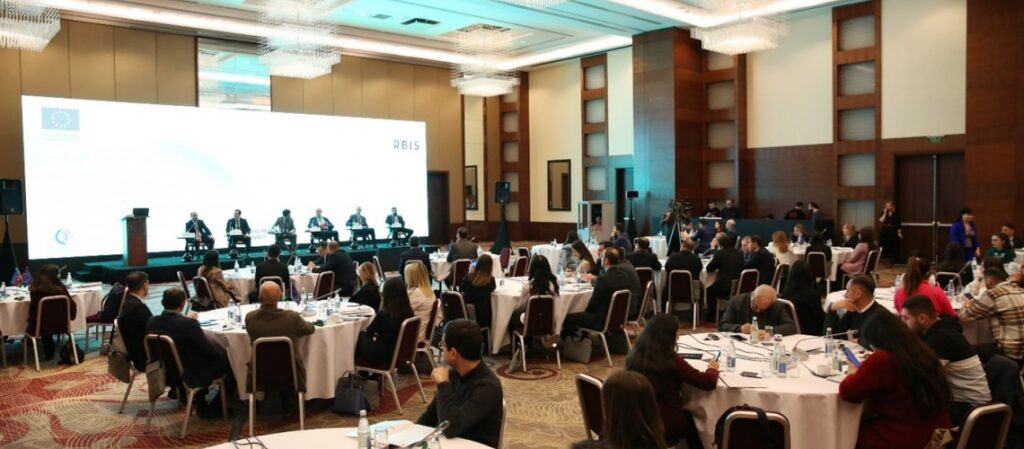 IDI succesfully completed the 'Support toDevelopment of a Rural Business InformationSystem (RBIS) Project' in the Republic of Azerbaijan. Funded by the European Union (EU), it ran from 2020 to 2022. The beneficiaries were the Ministry of Agriculture (MoA)and the Ministry of Economy(MoE). The Agricultural Economics Research Center (ARC) under the Ministry of Agriculture was the mai coordinator of the project.
The main aim of the RBIS project was to support the decision makers in public and private organisations by providing them with objective, up-to date and comprehensive information on the agriculturesector. This was achieved by the following activities:
– Provision of open data to public via setting up the RBIS portal;
– Support to the decision makers at the high level administration via capacity building (training) of staff in MoA (ARC) and MoE on analysis and evaluation of information, especially by introducing more advanced models for econometric methods and intensive training on the AGMEMOD model;
– Improvement of current data quality and access to available information, especially under the scope of: – Price collection- development of a strategy and implementation plan for an improved price collection system; – Farm Data Monitoring System(FDMS)- evaluation of the current system and proposing improvements of the overall system so that better data for improved analysis is available for sound decision making;
– Early crop estimation- development of a pilot early crop production estimatio nsystem for the benefit of rural populations and public administration to better foresee future productivity of crops and take actions accordingly;
– Introducing new indicators for rural and regional development- providing the public administration with a set of tools so that more comprehensive and consistent performance indicators can be followed for monitoring the development trends of regions in Azerbaijan.
A closing conference for the project was held in December 2022. High-level representatives from MoA/ARC, MoE and an EU Delegation in Azerbaijan and Technical Assistance Team (TAT) of RBIS participated in the event and spoke about their perception of the RBIS project, results and lessons learned.The TAT also delivered a detailed presentation about the RBIS Portal, focusing on the technical specialities of the portal and its use, EU experience in this area and theportal's relevance, efficiency and sustainability.