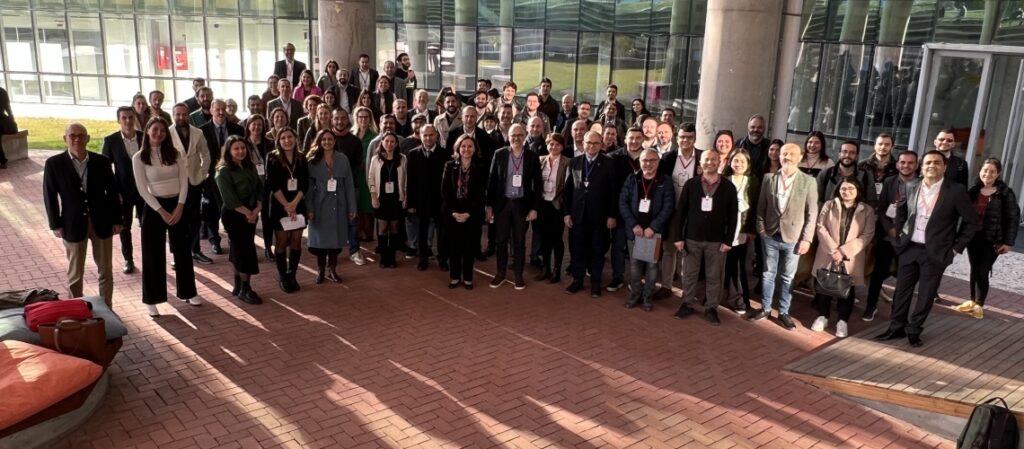 The onboarding kick off meeting of Accelerate İzmir: Growth Strategy Validation Programme Second Cohort within the scope of IPA funded 'Izmir Network and Innovation Centre (Izmir NIC) Project' has been successfully completed. The project's purpose to enhance the commercialisation and internationalisation of innovative products by fostering networks and strategic partnership among relevant stakeholders. The specific Accelerate Programme will provide support to the selected companies vias pecialised training, mentoring, access to markets, legal service support, investor meetings and networking activities.
The meeting was held on 23rd February 2023 with 102 participants and the Accelerate İzmir Programme Second Cohort with the selected 32 companies from ICT and renewable energy sectors.
The first session of the Kick-off Meeting was started with the opening speech of Teknopark İzmir General Manager Prof. Dr. Metin Tanoğlu. OCU Coordinator, Mr. Burak Köle briefed the companies and coaches on the Izmir NIC Project and the Accelerate Izmir Programme and introduced the Izmir NIC Project Team Members who will support the companies.
In addition, the selected company representatives delivered short presentations and had the opportunity to meet with their respective coaches who will support them in accordance with their needs. This session was moderated by IDI's Key Expert Mr. Gökhan Çelebi who informed the participants about the Second Cohort of the Accelerate İzmir Programme and ensured a productive transitionto the Second Cohort.
The afternoon session of the Kick-off Meeting continued with the one-to-one meetings of company representatives and coaches at the IncubationArea of Teknopark İzmir. Thus, the support process that the coaches will provide to the companies and the process of preparing the Barrier Analysis and the First Commercialization Roadmap specific to the companies were started. This session of the meeting was moderated by IDI's Project Mentoring Expert Ms. Sinem Altuncu.
The Kick-off Meeting facilitated the company-coach meetings, company representatives had their questions answered about the Programme, shared their expectations and thoughts, and had the opportunity to meet the Izmir NIC Project team closely.